UK'S NO.1 CORPORATE WELLNESS PROGRAMS
FITNESS CLASSES
SPORTS PROGRAMS
SOCIAL CLUBS
CHALLENGES & EVENTS
DATA & TRACKING
We grow employee wellness levels through the following:
Fitness Programs
We offer a huge range of high intensity and holistic fitness classes delivered usually on a weekly basis at set times/days to match your staff's routines. All GO Mammoth classes are delivered by highly experienced instructors with relevant market qualifications and winning personalities! (We manage 100's of instructors daily across the UK so rest assured on our quality and systems). We are able to provide both on-site and off-site programs for any business size. Class attendance and feedback ratings are provided to you real-time for you to track the engagement and results of all our programs.
High Intensity Fitness Classes

E.g. Boxing, Zumba, Bootcamp, Aerobics, Insanity etc

Holistic Fitness classes

Stress relief & Mental health classes

E.g Mindfulness, Meditation etc
Fitness assessments & wellness education
Fitness assessments

Non-invasive measures like body composition, BMI, blood pressure, postural assessment, Fit for Work demos of stretches/postural improvements for body/back/neck at the office

Health awareness talks & education

What is Diabetes/ Cholesterol/Smoking Cessation – Preventative methods Management of diabetes/ Stress/Cholesterol. Using exercise to lower risks of prevalent diseases. Holistic Wellness & Food Optimal foods for daily consumption and hydration. A look at the foods that should make up your day. Relating current conditions to optimal foods

Nutrition & healthy eating solutions

Nutritional advice and support groups/apps
Want to create fitter, healthier and happier staff?
Please enquire here to find out more.
Sports Programs
As the UK's largest provider of after-work and weekend sports leagues we know how to deliver team sports programs.
From facilities, referees, equipment to fixtures, prizes and formats, GO Mammoth is all about creating highly inclusive sports programs with an emphasis on social engagement and building real friendships.
It's not about the winning.. it's about the experience.
Sports tournaments and leagues

weekly/monthly/quarterly/annual

single sports/multi-sport/themed/indoor/outdoor

Inter-company (great for networking)

Intra-company (great for breaking down departmental barriers)
Break down departmental boundaries & get staff more active!
Please enquire here to learn more about our award-winning sports engagement programs.
Social Programs
Based on the specific size, location and demographic of your staff, we can set-up, promote and operate a range of highly social internal clubs based in or nearby to your offices.
We remove the administrative headache from staff themselves or the HR department in running such programs and allow you to give staff a way of sharing in common interests which in turn will make them more engaged at work.
We will also track and report on key attendance and engagement metrics to the HR department.
Internal clubs

E.g. running, reading, bridge, cycling, chess, badminton, bowling, table tennis etc
Bring your team together socially through their hobbies and shared interests!
Please enquire here to learn more about our corporate social clubs.
Company Fun Days & Events
We also specialise in delivering highly memorable team building and away days. These usually happen 2-4 p/a by company or department and are all about staff letting their hair down and socialising out of the office in an unforced, natural environment. We work closely with our clients to understand the tone and content of all events we deliver in order to ensure staff don't just have another "lame team building day".. (which after all, nobody wants!).
Corporate events may include:

Day and weekend retreats

Family fun days

Away Days
Sports tournaments
Themed events
Networking Events & Invitationals
Sports Marathons
Summer Socials

Christmas parties

Corporate ski holidays
 See full list here
Reward & recognise your staff outside the office!
Please enquire here to learn more team building and corporate away days.
Data, Tech & Reporting
It's important you can store, track and report data. That's why we've made it even easier for you by building a bespoke system that both the HR manager can use and the employees.
Our reporting enables you to see and track a multitude of things such as:
Fitness, sports, mental health class attendance by department and/or age and/or gender
Compare attendence and engagement data to sick days
Full events user/admin calendar + availability data
Nutrition tracking App that uses an AI system. Adapts each day depending on previous days calories/activity.
Available on mobile, tablet and desktop
Overall score reporting, quick glance reporting to see if the wellness programs are improving overall company culture, happiness and productivity.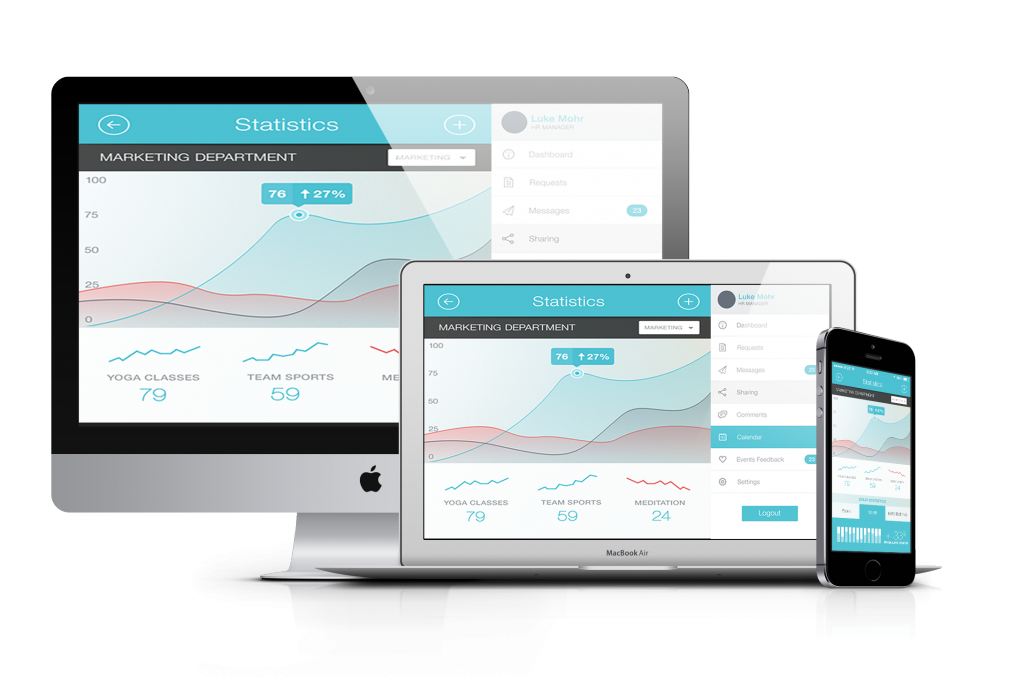 Benefits for staff
Company cares

– employees appreciate the company investing in their personal health and wellbeing

Reward & Recognise

– employees have the opportunity to plan, lead, execute and celebrate success outside of the office

Break internal boundaries

– improve inter-departmental working relationships with increased team interaction outside of the office

Productivity and profits

– happier and healthier staff lead to lower recruitment and absenteeism costs and more productive employees, which equal higher net margins.

Education – Your staff will be better educated and make better choices moving forward. They will understand the benefits of the wellness programs and what it can do them not only them but for the company too.
Happier & Healthier – Employee wellness programs have been shown to help staff reduce stress and anxiety. Decreasing these will lead to a better quality of life not only in work but out of work too.
Benefits for the HR Department
The HR department should see an improvement in staff comradeship, a reduction in workforce absenteeism and increased levels of productivty. This will make the HR departments role easier with all levels of productivity and staff satisfaction improving. A healthy and happy employee will also stay at their job for longer leading to a healthy long term company culture.
We will also make it even easier for you to yield outstanding results. We provide you with not only the knowledge but the toolkit you need to make a difference.
What you'll get from us:
Outsourced operations

Staffing, systems, equipment/t-shirts/kits


Data & Technology

Employee sign-up/onboarding

Live class and program attendance tracking

Live feedback and quality ratings

Administrator tracking and reporting

Can link into your own in-house HR tech if required via API


Client support

Dedicated relationship manager

Researching, bespoke solutions, onboarding

Ongoing support/improvements
Benefits for the Company
A happier and healthier workplace leads to a decrease in staff turnover, improvement in productivity and less sick days. This not only saves money but the company culture will see a real benefits of a happier and healthier workforce.
Stress reduction across the company will also have a domino affect across the company. Work related stress illness is on the rise and it costs companies millions each year across the world. Saving costs here will improve profits and help keep the shareholders and stakeholders happy.
A more positive and happy work culture will also attract new talent to join the company. Bringing in a higher standard of employee will lead to long term growth and increase in profits.
Reduced Absenteeism
Reduced staff turnover/churn costs
Reduced health insurance costs
Increased Productivity
What is an employee wellness program?
Mix of sports, fitness and team building activities
Developed for employees of all ages, nationalities & fitness levels
Custom programs suitable for companies of all sizes
Focused on improving both physical health levels and social interaction
The focus of wellness is to maintain the body in the best possible condition. This allows it to function efficiently and sustain a high productivity state for a long period of time. This has several benefits to both the company, the managers and the employees themselves.
Not sure where to start?
Don't worry. We'll analyse your business and recommend whichever techniques will have the greatest and most sustainable impact.
Here's how we can grow your staff productivity and happiness levels:
We work alongside your HR team –

creating, marketing, running, and reporting on wellness programs – linking into your current wellness technology eg API etc

Alternatively, we can do all the work for you

— running all wellness activities on our proprietary platform, Mammoth Wellness™.

Or we can do anything in between.
Ready to get started?
You contact us, letting us know what you need.
We'll speak to your HR or senior management 

to identify whether we're a good fit for each other.
Why wait? Contact us now.
Let us help your team!
We have designed employee wellness programs for dozens of prestigious companies
"A refreshing and very effective way to get staff active and healthy."
FREE E-book
The Secrets of The World's Top 5 Wellness Programs (Inside)