What is yoga and what yoga styles do we offer?
August 8, 2016
Here we explain the practice of yoga, before breaking down the differences between the differences between the two styles so you can work out which Go Mammoth class is for you.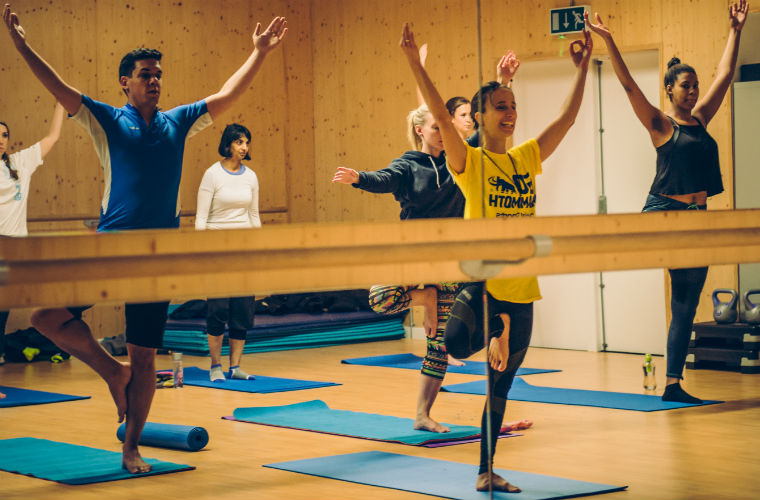 If you look up yoga in the dictionary you'll read that is "a Hindu spiritual and ascetic discipline, a part of which, including breath control, simple meditation, and the adoption of specific bodily postures."

But what the dictionary definition doesn't tell you is that it's a fitness discipline does wonders for the body and mind. It helps to build and maintain strong bones and muscles and assists with posture, bloody circulation, agility and mobility. It's a fitness discipline that helps the body feel purified and detoxified, while many yogis also feel that it's a great stress reliever.
Go Mammoth's classes our open to all levels – our instructors modify the movements and poses as your technique improves and you become stronger and more flexible. We offer classes in two distinct styles of yoga: Hatha and Vinyasa Flow:
Hatha Yoga
Hatha, or Haṭhavidyā, means "willful" or "forceful" and in its basic sense, refers to the practice of performing yoga poses. Although you'll still be physically exerting your body when performing Hatha postures, it's often regarded as the most gentle form of yoga, due to the lack of movement, or flow, between poses.
We'd definitely recommend this class to yoga beginners or people who feel they are slightly unfit. Our helpful instructors will slowly guide you through the postures – after couple of months of classes, you'll definitely feel more flexible, healthier and stronger!


Vinyasa Flow Yoga
With 'Vinyasa Flow' yoga, poses smoothly flow from one to another at different speeds. Movements are synchronised to your breath, so your instructor will spend time working with you on aligning the synchronicity of your breath to your movements. Along with exerting your body physically, you'll find the dance-like movements of Vinyasa Flow will also give you an enjoyable cardio workout.
If your job involves being seated for eight hours a day, we'd definitely recommend this class as it will assist your body with blood circulation and flexibility.
What to expect at your first Go Mammoth yoga class
—
Ready to sign up to a Go Mammoth yoga class in London. Select a location below: 
Join a yoga class in Aldgate
Join a yoga class in Angel
Join a yoga class in Balham
Join a yoga class in Clapham
Join a yoga class in Clapham South
Join a yoga class in Kings Cross
Join a yoga class in Putney
Join a yoga class in Victoria
Looking to buy a yoga mat? Check out our top five yoga mats for beginners
More articles