10 Reasons Why You'll Love Playing Netball With Go Mammoth
July 25, 2016
Our Go Mammoth netball team is dedicated to organising and managing the most socially enjoyable leagues across the country; here's why we believe you will love playing netball with us.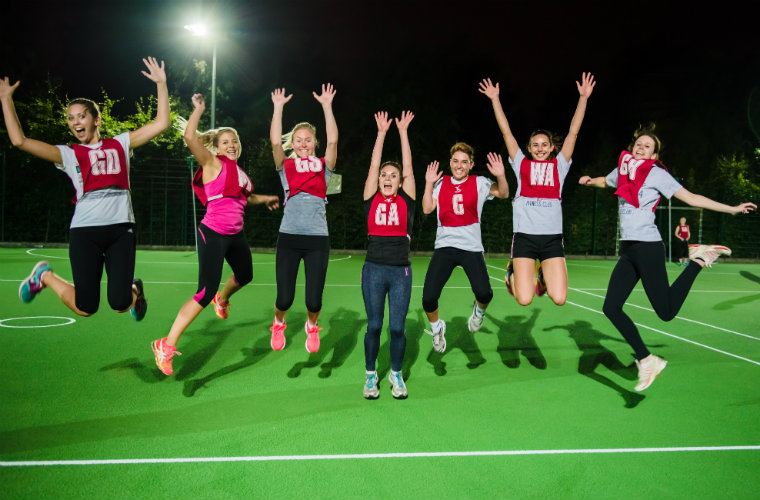 GO Mammoth has the #1 Netball leagues across London. Our London netball venues offer more than just a game of netball. Here's 10 reasons why you'll love playing netball with GO Mammoth.
1. There's a league for all abilities
We run both fun, recreational level leagues and intermediate level netball for players and teams who want a faster game.
2. Great way to keep fit
Playing netball is a fantastic way to keep fit, irrespective of the level you choose play at. Because our netball club is friendly, competitive and fun we think you'll prefer it to the gym too!

3. Meet new people
Playing in one of our netball leagues is a great way to meet new people. There's a healthy amount of competition between our netball teams but at the end of the day everyone's here to have fun.
4. Beginners welcome!
Beginners welcome – unlike other netball clubs in London we don't expect you to have played before or even know the rules of netball to join our leagues. Just read up on the basics netball rules before your first match and our friendly professional umpires will soon help you get to grips with the ins and outs of the sport.
5. No team? No problem!
At Go Mammoth you can join our netball leagues as either a team or individual, so if you can't get a netball team together just join us as an individual and we'll find a team for you to join (subject to availability).

6. Multiple venues in major cities across the UK
We run netball league in venues multiple cities across the UK. Select a city below to find out more:
North East – Play Netball In Leeds | Play Netball In Sheffield
North West – Netball In Liverpool | Netball In Manchester
Scotland – Netball In Edinburgh | Netball In Glasgow
South – Play Netball In Oxford | Play Netball In Portsmouth | Play Netball In Reading | Play Netball In Southampton
South East – Play Netball In Brighton
South West – Play Netball In Bath | Play Netball In Bristol
Wales – Play Netball In Cardiff
7. Great value!
Compared to the price of fitness classes and gym memberships our netball leagues across the country are a low cost way to stay in shape – and playing a game of netball with your mates is much more fun than hitting the treadmill!
8. Prizes up for grabs
The winners of each of our leagues across the country win stuff…good stuff!
9. Awesome post-match socials
Our netball teams sure work hard on the court but at the post-match socials they play just as hard. Our partner bars offer great post-match drink offers for our members – get in touch to find out more. As we've already mentioned, Go Mammoth's sport leagues are the perfect way to meet new people and make new friends.

10. The best umpires and reps
Go Mammoth umpires are a breed apart. Forget stuffy, strict, bossy umpires; our venue reps are hand-picked to be the most social, supportive and responsible netballers in the UK.
More articles